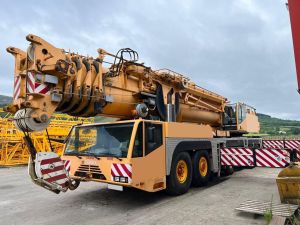 Demag AC 350 SSL
Demag AC 350 SSL
Year: 2007
Horas Grua  10880
Kilometros  54010
Superstructure:
Superstructure Engine: Mercedes OM 906LA 6-Cylinder diesel, Water-Cooled, 279HP (205KW)
Main Boom: 14.2 meter – 56.0 meter (Base section + 4 telescopic sections with hydraulic pinning)
Swing-Away Fly-Jib: 12.2 meter – 18.1 meter (double swing-away)
Fixed Jib: 49,4m
Luffing Jib: 71,4m
Super-Lift: Yes with SSL
Winches: 2 No.
Counter-Ballast: 142 Tonne (Full Complement)
Load Moment Indicator / SLI: PDC-350
Hook-blocks: 1 x Ball-Hook, 1 x single sheave, 1 x 3 sheave, 1 x5 sheave.
Auto-Lube: Yes
Air-Con: Yes
Reverse camera ; Aircraft lights  ; Anemometer
Carrier:
Carrier Engine: Mercedes OM502LA. 8-Cylinder diesel. Water-Cooled. 612HP (450kW)
Transmission: ZF AS-TRONIC Control System. Multi-Stage Transfer Case + Lockable Transfer Differential
Drive-Train: 12 x 8 x 10
Tyres: 16.00 R-25 (60% approx.) All original tyres.
Retarder: Telma
Auto-Lube: Yes
Air-Con: Yes